---
Free Invoice Generator
Manage Your Transactions with Online Invoice Maker
Our free invoice generator helps small businesses keep track of all financial transactions and eliminates the need to keep a paper ledger. Make invoice maker your ultimate companion to send automatic payment reminders to clients/customers and get paid faster!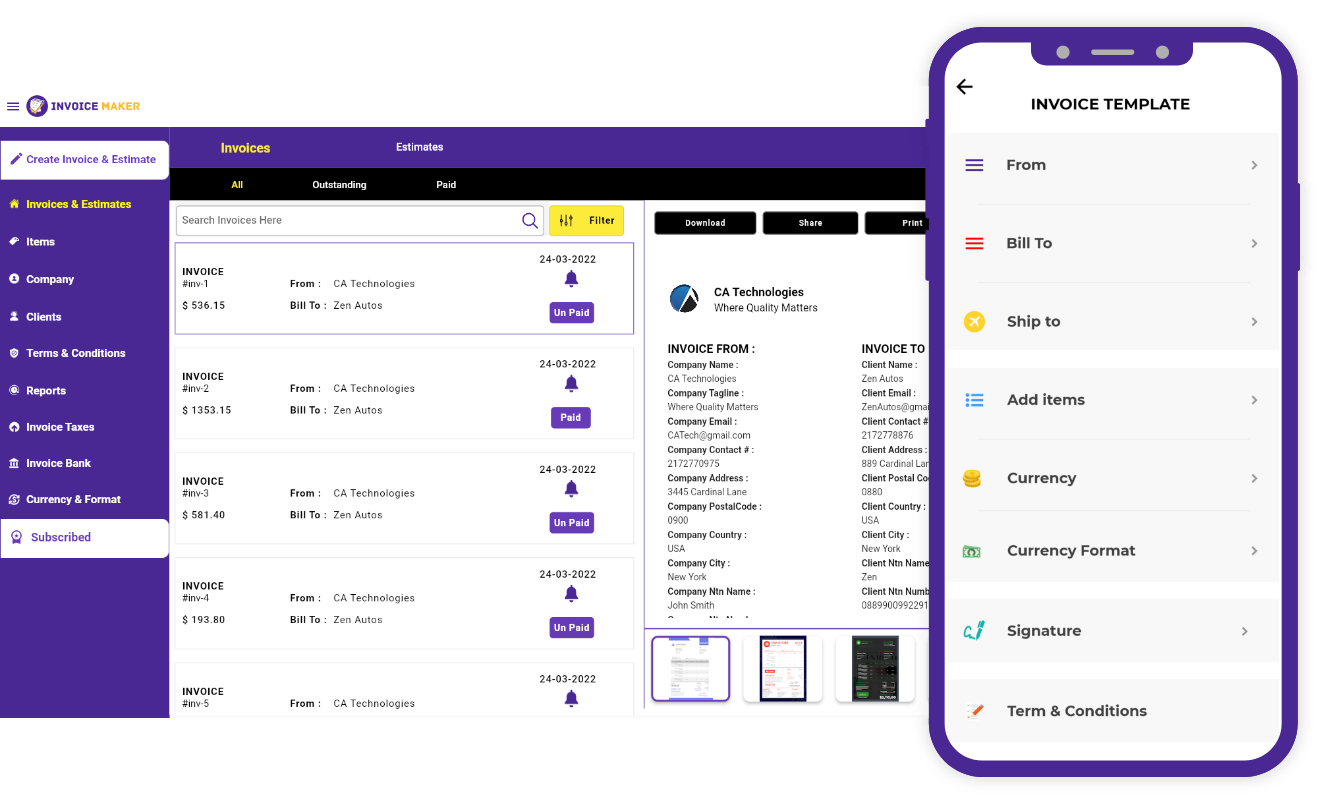 How to Make an Invoice Using the Invoice Generator?

Explore Templates
Get started on the journey to create invoices by picking a suitable invoice template from the wide range of options offered by the invoice generator.

Customize Invoice
After selecting an invoice template, you can customize the invoice, enter the information you wish to display on it, and include/exclude sections.

Download Instantly
Once you are done with customization, simply click the download button to save the invoice on your device instantly.
Explore & Select a Perfect Invoice Template
The professional-looking templates are available in abundance on our invoice maker. Just pick a design that resonates with your brand and start creating invoices!
Essential Elements of an Invoice

Header
The header of an invoice must contain the word invoice and the logo of the company.

Company and Customer Name & Details
The important details regarding a business and its customer should also come right at the top of an invoice, which includes the company name, customer name, and contact information of both entities.

Invoice Number
Keeping track of all the invoices issued to the customers is essential for a company; therefore, the invoice number should also be included on the invoice.

Date
Stating the date on which the invoice was created is also crucial for businesses that offer long credit periods to their customers.

Description of Goods or Services
The items delivered to the customer against which you are creating an invoice should be written clearly with accurate quantity and price.

Due Balance
The amount which a customer owes to the business must also be stated prominently in an invoice.

Terms and Conditions
This section contains the payment terms on which you have delivered products or rendered services. It involves the due date, preferred payment methods, payment installments, and discounts for early payments.
Free Invoice Generator: Streamline Your Billing Process
The invoice generator is here to resolve all your worries regarding the management of the billing process. This efficient receipt maker helps you out in the following ways.

Invoices
Invoice maker lets you create professional-looking invoices to build your brand image and earn customers' trust.

Estimate
Let the customers know about your quotes and discounts by sending out estimates curated with the receipt generator.

Payments
Notify the customers about payments and get paid faster than usual through reminders.

Report
Keep an eye on all your paid and outstanding payments with the detailed reports offered on our free invoice maker.
Free Invoice Builder: Usage
The invoice maker free is more than just an ordinary tool that allows you to create invoices. It is an advanced utility jam-packed with a wide range of features that can be a perfect companion to your business' billing process. The online invoice generator helps its users in the following ways.

In-depth Analysis
The invoice generator is extending its hands to assist the businesses in monitoring their overall cash flow. This online utility makes it quite quick and easy to track the paid and outstanding invoices.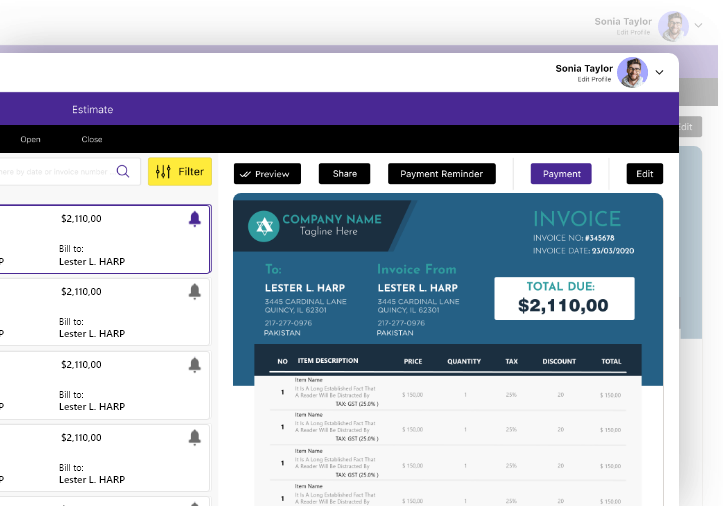 Digital Signature
The bill maker allows the users to add digital signatures on the invoices. You can make an invoice a legally binding document by including your own signature and getting it signed by the client through this free receipt maker.


Invest Less, Reap More
The assistance of a professional accountant is no more a requirement. The invoice maker streamlines your entire billing process like a pro without asking you to invest time, effort, and money.
Benefits of Using an Invoice Generator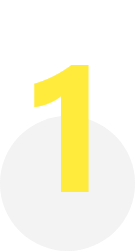 Saves you from Retyping Information
You don't need to create fields manually or type information twice to make calculations in the invoice. The invoice generator prevents you from the hassle of retyping information, as it automates the entire process and provides you with the invoices in a matter of a few minutes.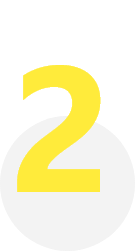 Get Shareable and Printable Invoices in One Go
The invoice maker free doesn't ask you to follow intricate procedures to save the invoices and estimates on your device. This online tool comes with a user-friendly interface that allows users to easily print, download, and share their invoices in one go.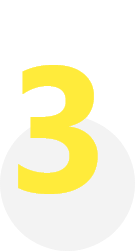 Generate Unlimited Invoices and Download in PDF
Our free receipt maker doesn't impose any restrictions on the number of invoices you can create through it. The invoice builder lets you generate as many invoices as you desire and download them in PDF format instantly.

Customization
Make alterations to the selected invoice template as per your preference. Incorporate your business logo, add/remove items, or change the layout with a few clicks on your device.

Send Alerts to Your Clients
Notify clients about due dates to clear off the outstanding invoices. Send alerts through text or email without investing time or effort.

Payment Settlements
Improve payment settlements with our online invoice generator. Track down the cleared and due invoices in the distinct tabs to keep an eye on your turnover.